StMaarten-Info Featured Advertiser
Kwik-Fix Handyman Services
FOR WHEN YOU NEED A KWIK-FIX IN AND AROUND YOUR HOME, HOUSE, VILLA, CONDO, APARTMENT OR PLACE OF BUSINESS…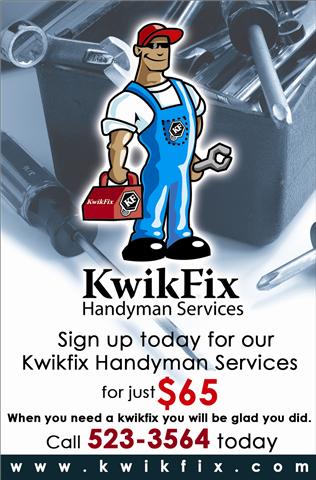 Our motto is: Repair! Don't Replace !!
Bush Road, St. Maarten  – GFR Enterprises, owner and operator of several websites such as AirSXM.com, AirStMaarten.com, SharedCharters.com, AllCaribbeanCharters.com, StMaartenCatering.com, StMaartenFlowers.com, StMaartenGifts.com and StMaartenGiftBaskets.com is now launching a totally new online web business called KwikFix.com .
Visit Kwikfix.com for when you need a kwik-fix in and around your home, house, villa, condo, apartment or business. We now have an auto mechanic to do car repairs also.
If you are a home owner, business owner or property manager, Kwik-Fix can offer you the following handy persons:
airco man
all-round handyman
babysitter
decorator
electrician
carpenter
carwasher
cleaner
computer technician
cook
contractor
gardener
grasscutter
handyman
house cleaner
housesitter
lawnmower
maid
masonmechanic
nanny
pc repairman
plumber
painter
technician
upholster
welder
All our handypersons, handymen, handywomen, specialists, subcontractors and independent contractors have expertises in the following areas:
aircondition installation
airco maintenance
air condition repair
all-round repairs
auto repairs
babysitting
carpentry
cooking
contracting
electrical installations
electrical repairs
electrical wiring
gardening
general contracting
grasscutting
handy services
house cleaning
housesitting
interior decorating
lawnmowing
maid services
masonary
nanny services
pc repairs
plumbing
painting
technical repairs
upholstery
welding
We personally select our handymen, specialists and contractors to ensure reliability, trustworthiness and expertise so that when we send a handyman, a specialist or a contractor you can be sure that the job will be done right, on time and that the project will be handled with the utmost care and total responsibility. Use our form below and sign up today!
Repair! Don't Replace!
Kwik-Fix Handyman Services include:
| | |
| --- | --- |
| Minor plumbing | Leaky faucets, repair/replace fixtures, toilet repair, minor drain problems, heater/boiler install, refrigerator repair and install (ice maker lines). |
| Minor electrical | Ceiling fan repair and install, electrical plugs and switches, vanity lights, motion lights, cable and phone line installation, water heater repair. |
| Fence repair | Metal and wood fence repair and install, electric fences, gate and latch install. |
| Window, wall and door repairs | Locks install/ repair, small hole repair, door installation, window maintenance and repair. |
| Decks and patios | Deck repair and maintenance, chemical cleaning, pressure washing, wood replacement, handrail installation. |
| Painting | Interior and exterior (short of an entire exterior of a house). |
| Weather proofing | Weather stripping, caulking, hurricane shutters setup, install, repairs, etc. |
| Flooring | Tiling (laying of tiles), carpet and hard wood repair. |
| Exterminating | Flitting and chemical treatments (termites, woodlice, insects, bugs, rodents). |
| Welding | Iron (bars/gates), metal, steel welding needed in and around the property. |
"Don't Replace, Repair!"
Sign up today for our KwikFix Handyman Services for just $65 and receive the first 1 hour's of work absolutely free. For the following subsequent hours, you pay just $30 per hour
When we send a Handyman to do a Kwik-Fix, we pay the handyman and invoice you after the job is done completely.
We will invoice and bill you seperately for all parts, materials and other expenses and costs incurred.
Sign up today because you never know when you will need a Kwik-Fix!
Use our form below…
Special notice for Handymen :
10 Protected areas/regions/districts available to serious interested parties.
A one-time franchise fee and yearly royalty required.
Contact us for an interview, executive summary and business prospectus.
The following areas/regions/districts on Dutch St. Maarten are available for immediate assigning:
Philipsburg area
Lower Princess Quarter area
Upper Princess Quarter area
Middle Region area
Dutch Quarter area
Cul-de-Sac area
Cay Hill area
Cole Bay area
Simpson Bay area
Cupecoy / Lowlands area
Email info@kwik-fix.com  or call us today via (721) 543-1028 or call day or night (721) 527-7966.
st. maarten handyman services – kwik-fix handyman services – kwikfix handyman services – st. maarten plumbing – st. maarten electricians – st. maarten carpenters – st. maarten masons – st. maarten contractors – st. maarten painters – st. maarten repairmen – st. maarten repairs – st. maarten plumbers – st. maarten technicians – st. maarten mechanics – st. maarten auto repairs – st. maarten wood work – st. maarten gardeners – st. maarten woodworkers – st. maarten grasscutters – st. maarten exterminators

This contact form was created by Freedback.