St. Maarten/St. Martin has over 37 different beaches and all of them are open to the general public. There are several vacationers would enjoy more than others, that is why we have listed here 21 of the most popular beaches on the island.
St. Maarten Beaches – Dutch Side
St. Martin Beaches – French Side
Note : Click here to find these beaches on the St. Maarten Map.
But first some advice on beach etiquette. Throughout most of Europe topless beaches are common and nudity is not unusual. In the U.S. these sights are practically nonexistent. St.Maarten is an extension of France and Holland, therefore topless sunbathing has become accepted just about everywhere on the island.
Nudity is usually confined to Orient Beach, Le Galion Beach and Tintamere or Flat Island on the French side and to some extent at the far end of Cupecoy Beach on the Dutch side. Although you may encounter nude sunbathing on some of the more isolated beaches, it is adviseable to confine your experience to your private villa or the Orient Beach area.
The Caribbean sun is much more intense than what you are used to at home. There may be parts of your body that never have experienced intense sunlight. Many vacations have been ruined by sun poisoning and severe sunburn.
We can't stress enough how important it is to use a sunscreen or block at all times. A 15-25 block is recommended by most doctors to insure proper protection. Also, a cool breeze or a cloudy sky does nothing to inhibit the suns damaging ultra violet rays. Play it safe and avoid the sun between the hours of 11 am and 2 pm.
PS: Make sure visit our Beach-On-A-Budget.com website.
PPS: Read about our Dawn Beach Fun & Snorkeling Excursion Tour.
St. Maarten Beaches – Dutch Side
 Cupecoy Beach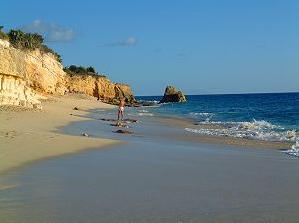 Cupecoy is Dutch St. Maarten's semi-official nude beach. Sandstone cliffs give Cupecoy beach a dramatic golden backdrop, unlike any other beach on the island. Protected from the wind, this beach is perfect for those who enjoy "baking" in the sun. Dipping in the Caribbean Sea often or just lying on the edge of the rolling surf is recommended. If you're wearing nothing but your birthday suit, be sure, at least, to wear plenty of sunscreen!
 Dawn Beach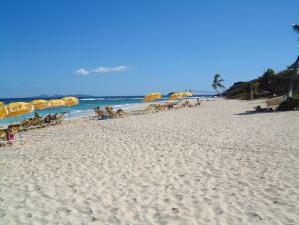 This wide white sand beach , close to a mile long, is backdropped by the dramatic green mountains of Dutch St. Maarten. There's plenty of room to toss a Frisbee or play some paddle ball. Its rolling waters are some of the best for snorkeling on St. Maarten. Coral reefs, burgeoning with exotic fish, are within an easy swim from shore.
If you just want to relax and work on your tan, it's easy to find a place for a little peace and quiet. Beach chairs and umbrellas are provided everywhere on the beach.
 Great Bay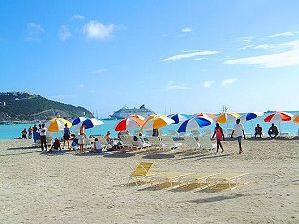 Stretching for two miles in front of the Dutch side capital, Philipsburg, a myriad of cruiseships sail into her harbor daily. The thousands of cruiseship visitors that line Great Beach every day can keep an eye on their floating hotel and shopping in Philipsburg is always close at hand.
 Guana Bay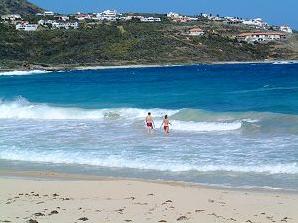 Surfers , get out your boards! Guana Bay is awesome dudes! This is the best beach in St. Maarten/St. Martin for surfing enthusiasts, and is recommended for strong swimmers only, since there is usually a heavy undertow. If this sounds like its for you, bring your own picnic and cooler – there are no services. Beautiful breaking waves make great photographs. Bring a friend.
 Kimsha Beach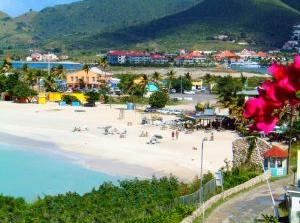 Conveniently close to the action of developing Simpson Bay with its resorts, restaurants, nightclubs and casinos, Kimsha Beach is one of the most central beaches on the island. Beach lounges and umbrellas can be rented and watersports toys are available for the active minded. Kimsha Beach can also turn into a night spot, with occasional concerts and beach parties. Topper's is only a few steps away and an ideal spot to enjoy a lunch or after-beach cocktail.
The surf is usually very calm, as a small reef protects the beach. Many yachts use the bay as an anchorage and provide an attractive foreground for the gorgeous sunsets, which can be observed from here.
 Little Bay
Located on the southern coast of St Maarten, just around the corner from Great Bay, this small but pretty beach is well protected by the outcrop of Fort Amsterdam right on the edge of Philipsburg. For diving enthusiasts, it offers one of the rare beach dive locations, as the waters here are generally calm due to its 'cove like' nature and also the installation of solid rocky beach breaks. This makes it an ideal spot for children, and a selection of beach equipment from snorkeling gear to jet-skis means there is plenty to do for all the family.
 Maho Beach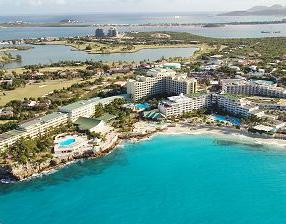 A great place to watch the sunset, this "little stretch of sand" is also just a few short yards from the runway of The Princess Juliana International Airport.
So, get out your camera! Nowhere else in the world will you get this close to a landing jumbo jet. You can lie on the beach, catch some rays, and photograph the underbelly of a 747 just a few yards above your head. What a rush!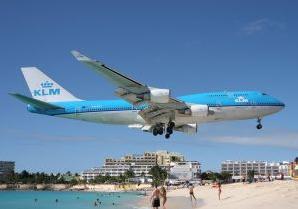 If you're not quite that daring, you can watch the planes take off and land at The Sunset Beach Bar; they're located at the other end of horseshoe shapedMaho Beach . The Sunset Beach Bar is a great place to hang out, listen to some tunes, and slurp down a few frozen mudslides.
 Mullet Bay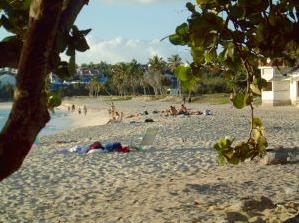 Just down the road from Maho Beach , this is a surfer's paradise, when the conditions are "right". Mullet Bay Beach borders on the island's only 18-hole golf course and is very popular with locals, especially on the weekends. At the southern end, seagrape trees provide pleasant shade for those who are sensitive to the sun's rays and heat. Lounge chairs and umbrellas are also available. A little snack bar cooks up hamburgers and hotdogs and serves cold beers and soft drinks.
Mullet Bay Beach is also an ideal place to take a long stroll in search of free souvenirs. Make sure you take a little waterproof bag with you. Washed up onto the seashore are all types of tiny shells and little pieces of interestingly shaped coral that could grab your eye – great way to get a tan! – Good sunset beach.
 Simpson Bay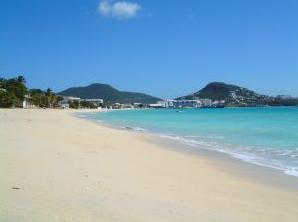 At one time, this area was famous for its families who made their living by fishing. There are still a few fisherman who shove off, hours before dawn, in search of "the one that got away". Nowadays residential and vacation homes dot this mile long beach, as well as a few small resort hotels such as White Sands Beach Club.
Half of Simpson Bay Beach runs parallel with The Princess Juliana International Airport runway. This beach is never crowded and is perfect for watching planes and sunsets.
---
St. Martin Beaches – French Side
 Anse Marcel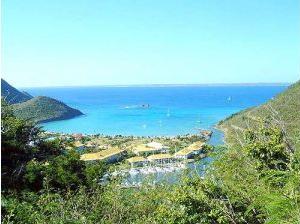 Bring your camera! As you drive over the mountain from French Cul-de-Sac to Anse Marcel, breathtaking panoramic views enable even the most amateur photographer to appear the expert. Nestled between the northern peaks of St. Martin , this secluded beach front valley is one you'll want to photograph. for its exquisitely developed resort and marina below as well as the multi-colored Caribbean waters flowing to the neighboring island  of Anguilla .
 Baie Rouge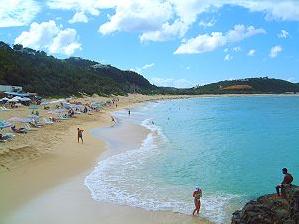 Baie Rouge is a short ride from Marigot and hotels located on Baie Nettle. If you miss the snow, you'll love sinking into Baie Rouge's beautiful white sand beach – but no need for boots!
Lounge chairs and umbrellas are available for your convenience. Snorkeling gear can be rented, in order to explore the rocks at the Northern end of the beach.
If you're hungry , there is a shack waiting to serve you a local fare of ribs, chicken, and burgers. Frozen coladas as well as ice cold beers and sodas are there to quench you thirst.
If privacy is more to your liking, just a short walk down the beach you'll enjoy solitude and clothing is optional.
This is the Terres Basses region where most upscale vacation villas are located.
 Baie Longue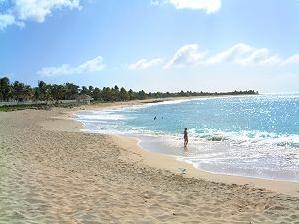 Baie Longue is the beach to the rich and famous.
Baie Longue's 2 mile beach is beach front to some of the most expensive real estate on the island. Multi-million dollar homes overlook the picturesque view of this extra wide, white sand beach.
Baie Longue is never crowded and is well suited for the sun bather who prefers privacy and quiet. Its also perfect for a romantic afternoon picnicwith your significant other.
 Friars Bay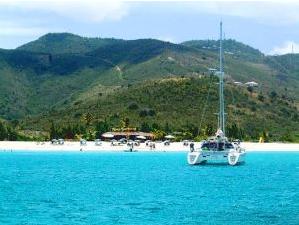 Friars Bay anchorage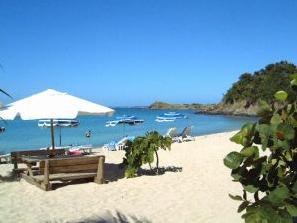 One of St. Martin's few existing dirt roads leads to Friar's Bay Beach (the road is presently being upgraded). Since this beautiful bay is well protected from the wind and heavy surf, it is ideal for the whole family.
If you would like to visit secluded Happy Bay , one of the most attractive beaches on the island, you must leave your car at Friars Bay and walk for about 15 minutes on a trail .
 Grand Case Beach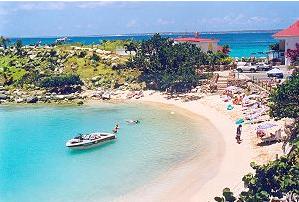 St. Martin's gastronomic capital at night, Grand Case Beach is a pleasant "town beach" while the sun is up. You may want to take pictures of the many sailboats anchored just off its shores. Several small to midsize resorts are nestled between numerous bars, restaurants and private homes. A number of local establishments offer lunch and refreshments.
Grand Case Beach is also where you can board the Seaworld Explorer to exploreSt. Martin 's underwater marine life without getting your feet wet. Check out the Atlantis Adventures Seaworld Explorer tour information here.
 Happy Bay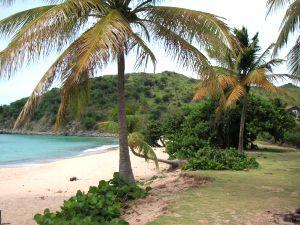 Happy Bay might just be the most beautiful beach on St Martin , and its seclusion adds to the charm. There is presently no road leading to Happy Bayand all visitors must leave their cars at Friars Bay and hike for about 15 minutes on a trail. It's worth it.
 Le Galion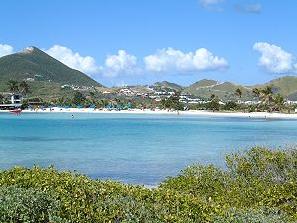 This half-moon shaped bay on the Windward side of the island is protected by a great snorkeling reef and is very popular for all types of surfing. A mile of undeveloped park-like beach, formerly known as Coconut Grove , with shallow waters ideal for children, makes Le Gallion a favourite for families. This beautiful area is a protected Nature Marine Reserve and can be explored on horseback if necessary. Fantastic trails and bareback swimming in the sea make this a wonderful experience for all! Windsurfing lessons, paddle boats, snorkeling trips and sailing charters on a Trimaran are available, in addition to beach chairs and umbrellas.
Le Galion is a great 'hang-out' spot for meeting like-minded watersports enthusiasts and its friendly island ambience complements the beautiful surroundings. A great place to 'get away from it all!' It is also the home of theButterfly Farm.
 Nettle Bay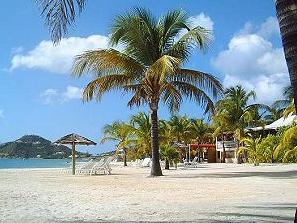 Nettle Bay Beach is on the French side of the Simpson Bay Lagoon. Since the water is so flat here, it's ideal for many watersports, especially waterskiing.Nettle Bay is home to a number of excellent full service hotels and is a short distance from the French side capital of Marigot.
Beach lounge chairs and umbrellas are supplied for you to work on that tan.
 Orient Bay (Nude Beach)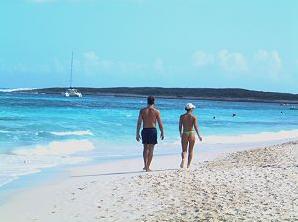 Orient Bay Beach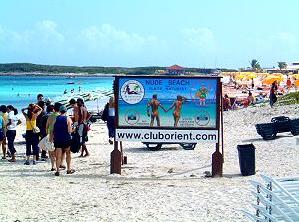 Orient Bay – Clothing Optional – Nude Beach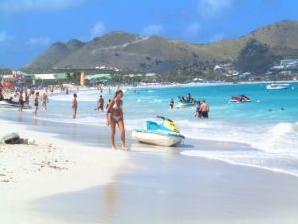 Orient Bay Beach activities scene
Orient Beach is St. Martin's flagship beach and is often referred to as the "French Riviera of the Caribbean ". This expansive one mile beach is home to numerous beach bar/restaurants, who offer various menus, from formal French to pizzas, burgers and local fare. No matter what the cuisine, its party time all the way, from one end of the beach to the other. Bikini Beach , Coco Beach ,Kakao Beach , Wakiki Beach and Kontiki Beachand Baywatch are the most established beach restaurants with great food, great service and even greater ambiance.
For those who can remember "skinny dippin", this is your chance to try it again! Here you're invited to rid yourself of those tell-tale tan lines. You can swim and sunbathe unencumbered; it is "clothing optional". Remember to wear plenty of sunscreen. But for those of you who prefer not to go nude, don't worry. There will be plenty of people, most in fact, fully suited so you won't feel out of place.
 Pinel Island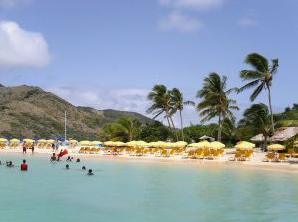 Every hour, brightly painted local ferry boats shuttle visitors the few hundred yards from the mainland to this tiny picture-perfect tropical paradise. There are several beaches surrounding Ilet Pinel, some unspoiled and private, which are ideal for sunbathing and snorkeling excursions. Two beach restaurants/bars offer fresh seafood dishes, grilled lobsters, and ribs and chicken. Cooks grill up the live lobster you choose from lobster traps in waters just off the beach. Mmmmm.
While you're on Ilet Pinel, check out the hundreds of beautiful sarongs and other souvenirs to choose from.
Plenty of lounge chairs and umbrellas, as well as snorkeling equipment available.
 Plum Bay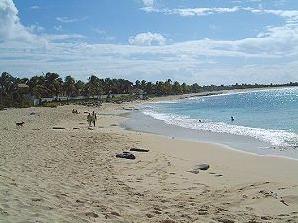 Plum Bay Beach (or Baie aux Prunes in French) is like its neighbor Baie Longue beachfront to some of the most exclusive homes in St. Martin . This secluded stretch of sand is clothing optional and perfect for those who seek peace and quiet.
Bring your own chair; there are no facilities.
 St. Maarten Beach Map