St. Maarten is the perfect starting point for your yachting experience. The lagoon is large enough and provides a safe haven for plenty of luxury yachts and sailing vessels. Over the years St. Maarten/St. Martin has become popular for many yachting enthousiasts to fly to to embark on the ultimate experience in yachting.
The keywords in St. Maarten/St. Martin Yachting are: action, comfort, elegance, excitement, fine dining, fun, luxury, relaxation, service and style. These are things you will be guaranteed of when you choose St. Maarten as the next destination to start your yacht charter vacation.
St. Maarten Sailing
St. Maarten offers a wide selection of elegant sailing yachts and luxury motor yachts to choose from. With a unique blend of professionalism, personal touch and expertise, our Charter Specialists delight in their efforts of matching charter clients with the right yachts and crews.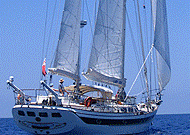 Besides St. Maarten/St. Martin our Yacht Charter Brokers can assist you with your Caribbean sailing vacation in the British Virgin Islands (BVI) of Tortola and Virgin Gorda, Antigua & Barbuda and The Grenadines. Some of our Yacht Charter Brokers are the fastest growing, top rated Sailing Yacht Charter Brokers in the Caribbean. Whether you want to charter a monohull or catamaran, bareboat, skippered or crewed, our Yacht Charter Brokers offer a wide range of charter options for you to choose from.
Even if you are presently a yacht owner, our Yacht Charter Specialists can also help you with information about how your yacht can earn revenue in a proven yacht charter management programme.
Contact Us
Contact us today to discuss your next yachting vacation plans. As the world of yachting has so many parallels with aviation, to complete the glamour of a whole yachting vacation package, our Charter Brokers can even arrange your inbound flight by commercial airlines or by private air charters and arrange VIP Services and Ground Transportation to and from the Yacht Marina, Harbour or Dock.
We can be reached by phone (+1-721-527-7966) or by email (charters@anykeyservices.com).