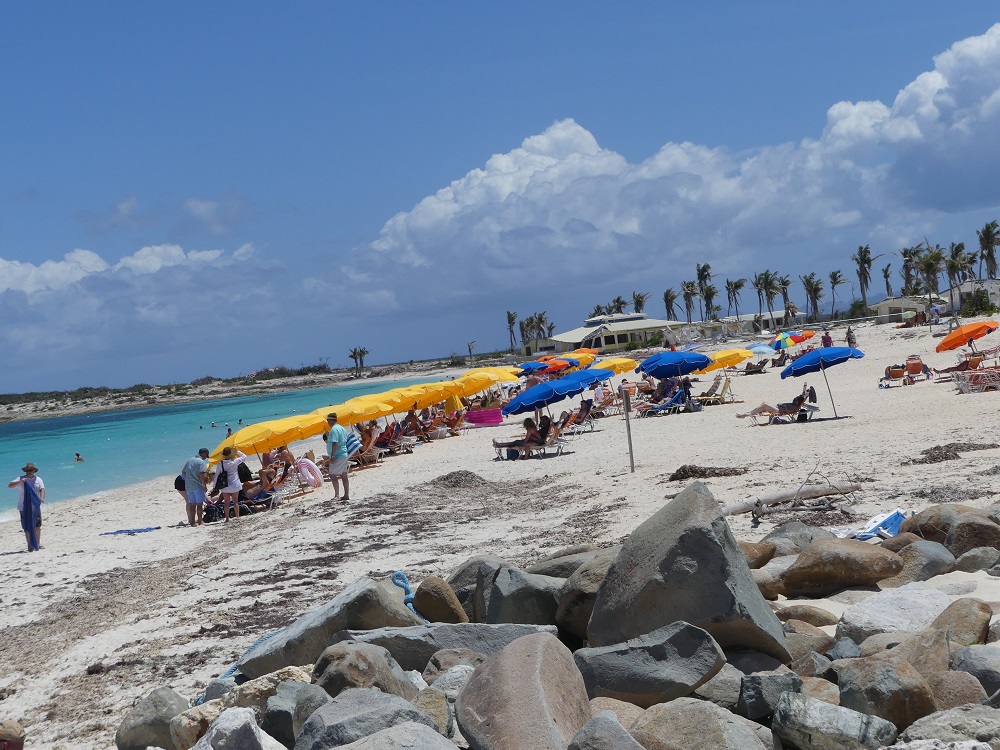 ORIENT BAY – The scars Hurricane Irma inflicted back in September of last year on Orient Beach, once the island's prime tourist destination, are still visible but the place is slowly coming back to life. Tourists are returning and small businesses have sprung up here and there.
Most importantly, the beach is in good shape. It is wide – and white. Most of the beach lovers are on the far end in front of the now defunct clothing optional resort Club Orient. The characteristic yellow parasols give the beach its sunny outlook. Way back from the beach a bar has been established.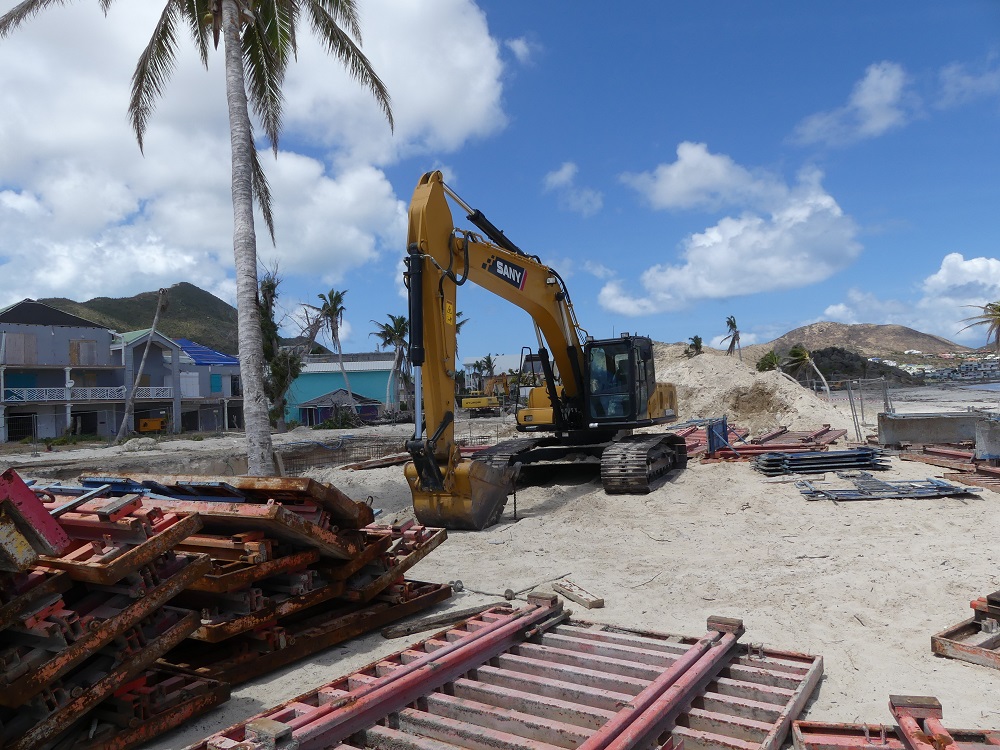 Near Orient village, heavy equipment operators are working on the reconstruction of Bikini Beach for Sindex Tours that obtained a building permit for the construction of close to 137 square meters (see photo above). Bikini Beach will be set further back from the high water line as well. Further down the beach, work is also underway to rebuild other beach bars and restaurants but the way it looked on Tuesday it could take some time before these jobs are finished.
Months ago, when there was no activity whatsoever on the destroyed and deserted beach, a little green cabin sprung up right next to Pedro's, a bar that is still completely in ruins. It was the initiative of Luis, a South American who sells pareos and swimwear.
In front if his cabin a local man sits in the sand, displaying some handicraft, but he does not want to be photographed, unless I give him 5 dollars. Unfortunately, I went to the beach with empty pockets, so that picture did not come about.
Just behind Luis' pareo and swimwear cabin is the beach bar and restaurant Chez Leandra; further down a small company is renting out jet skis.
The return of several beach vendors – peddling hats, pareos and other odds and ends – indicates that Orient Beach is now again attractive for business as well.
Two American tourists, camping out under an improvised tent, said that they are happy to be back in St. Maarten, though they had expected more people on the beach.
Why not go to the Club Orient Beach? "Nah, they're all naked there. We don't want to go there," was the reaction.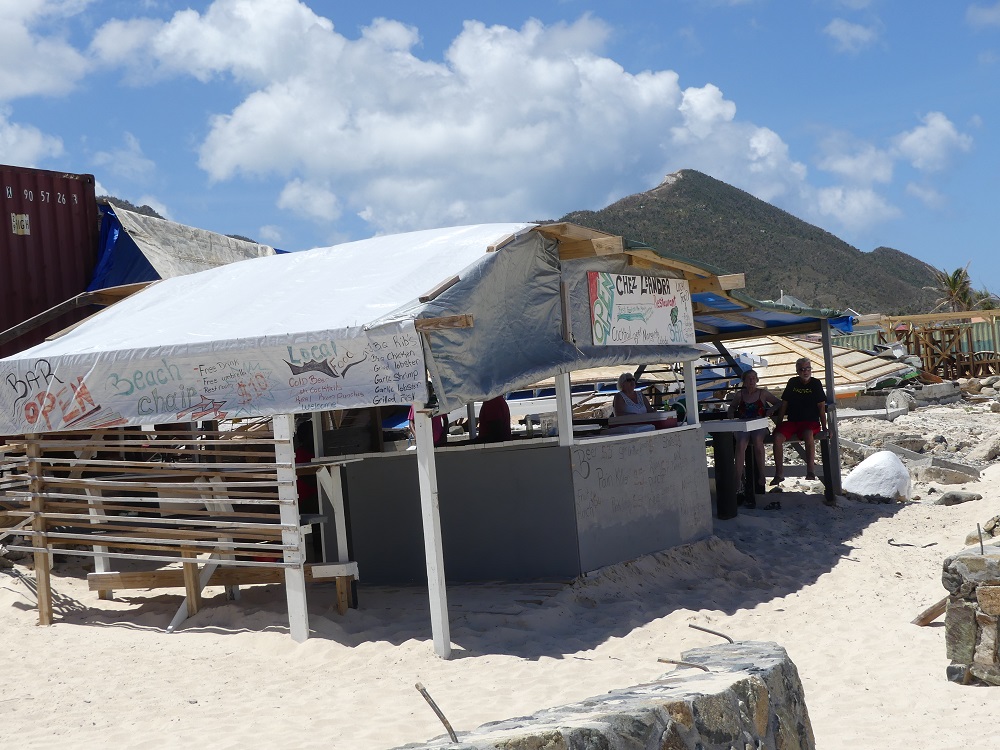 Photo caption: Chez Leandra is back with an improvised beach bar. Photo Hilbert Haar.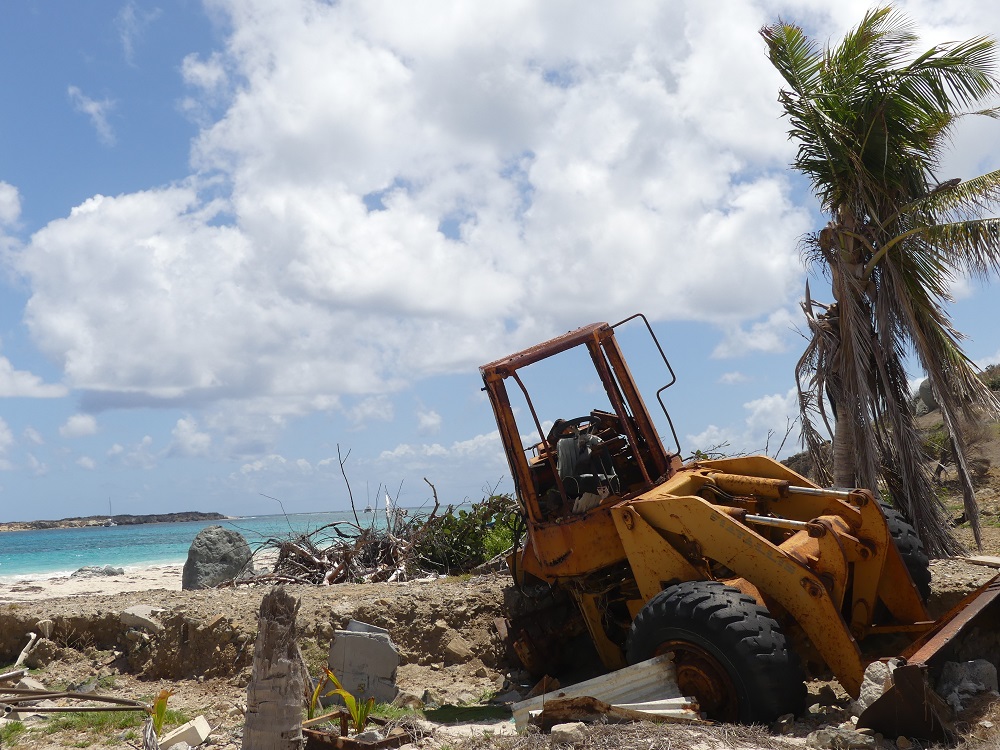 Photo caption: A destroyed excavator rests in the sand near The Palms. Photo Hilbert Haar.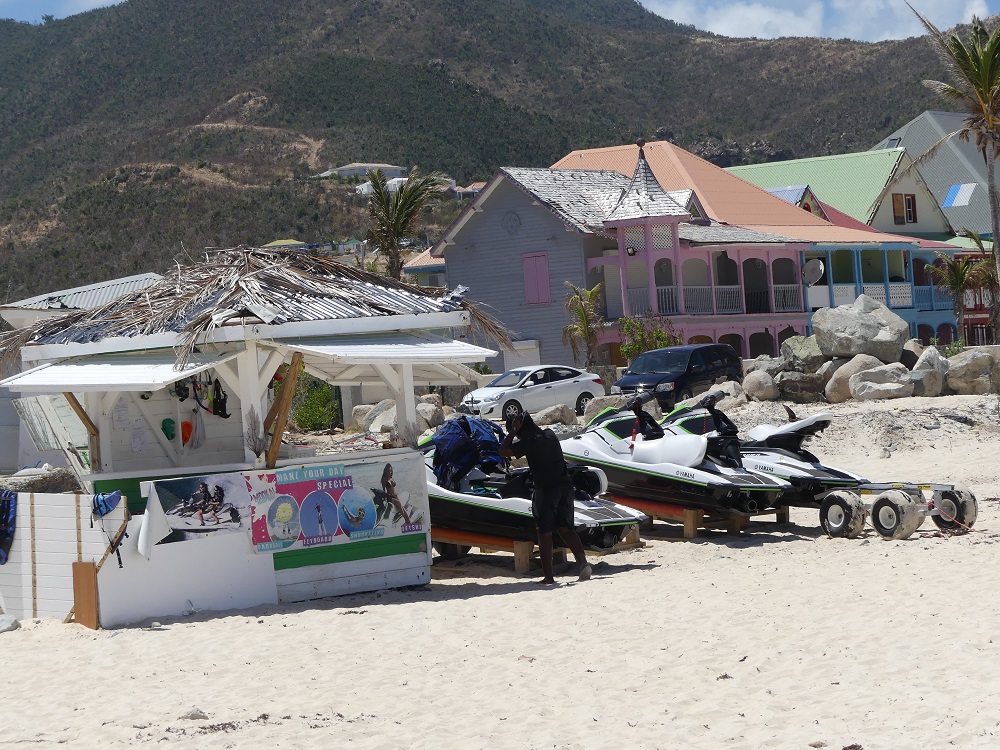 Photo caption: A small operation but still jet ski rentals are back on Orient Beach. Photo Hilbert Haar.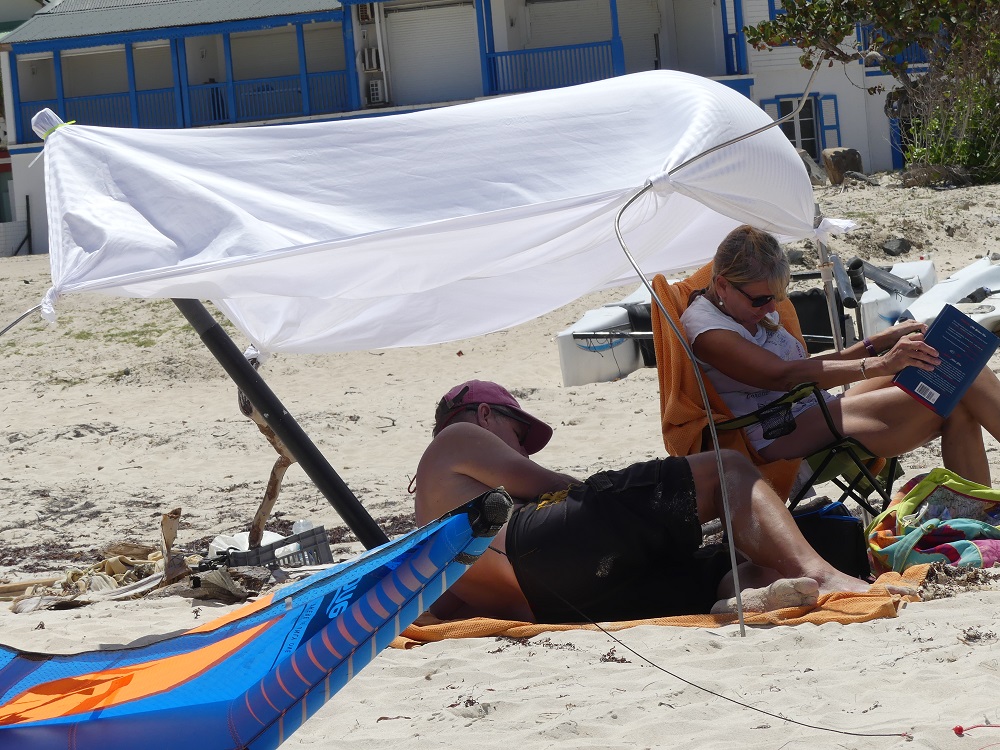 Photo caption: American tourists enjoy the beach under an improvised tent. Photo Hilbert Haar.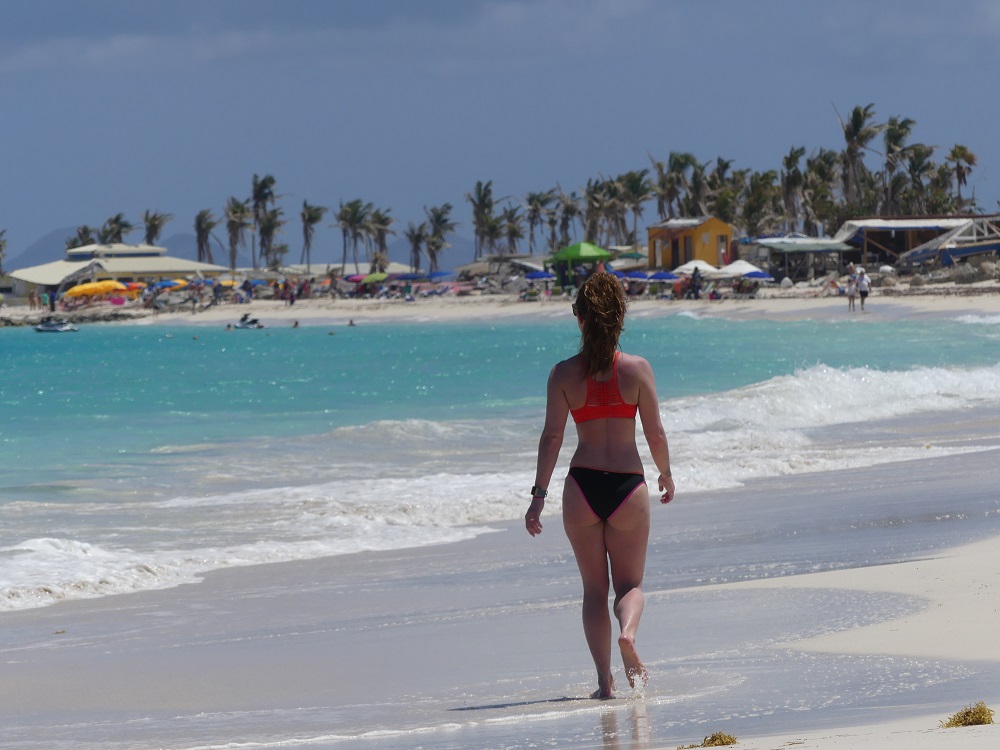 Photo caption: A walk on the beach – it doesn't get more peaceful than that. Photo Hilbert Haar.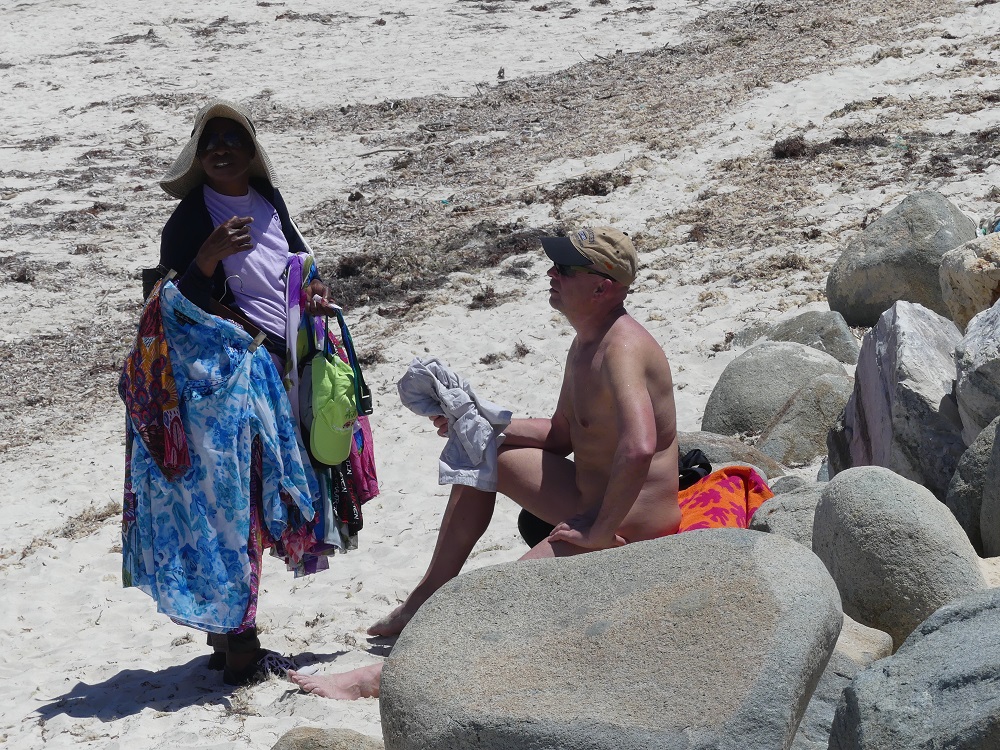 Photo caption: A beach vendor haggles with a potential customer. Photo Hilbert Haar.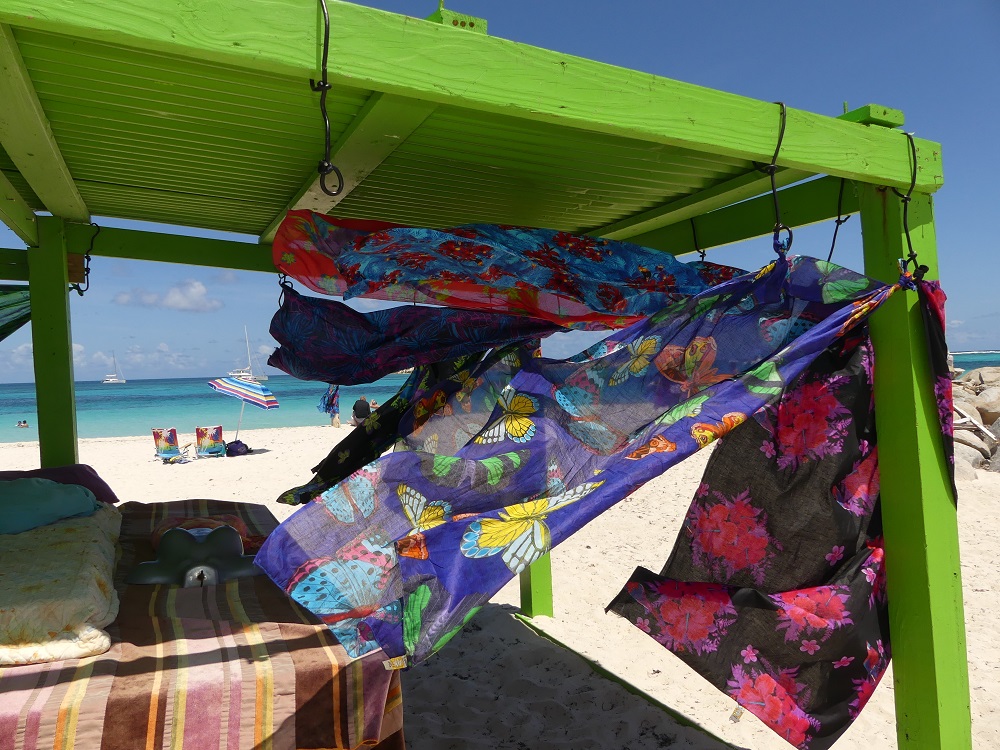 Photo caption: This little hut of pareo and swimwear vendor Luis was the first one to return to Orient Beach. Photo Hilbert Haar.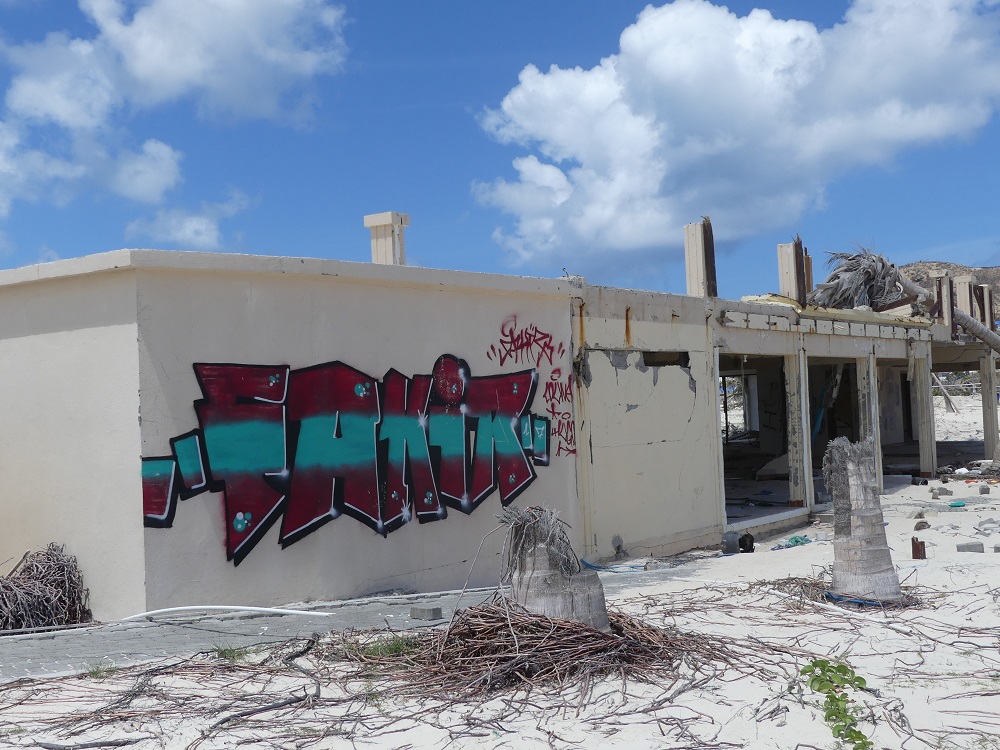 Photo caption: The Palms is still in ruins and has become a platform for graffiti artists. Photo Hilbert Haar.
Top photo caption: The characteristic yellow parasols of Club Orient are back on the beach. Close-by photography on this beach is prohibited. Photo Hilbert Haar.
Related stories:
Orient Bay Beach top tourist attraction desolate disaster area
The following two tabs change content below.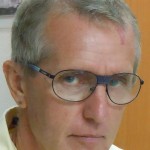 Independent writer, journalist, photographer and former managing editor of the TODAY Newspaper on St. Maarten.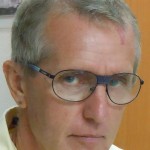 Latest posts by Hilbert Haar (see all)