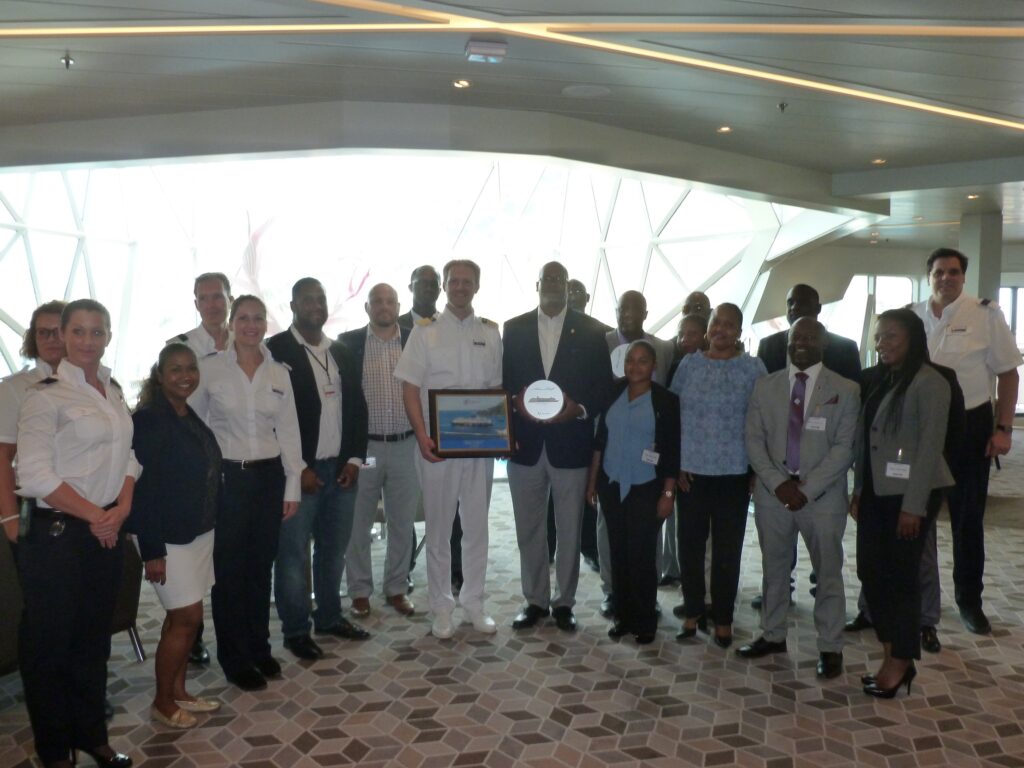 PORT ST. MAARTEN – Mein Schiff 6 made its inaugural call last Friday, April 6th and was welcomed by Acting Minister of Tourism and Economic Affairs Cornelius de Weever, Port St. Maarten Supervisory Board members and Management, along with representatives from the St. Maarten Chamber of Commerce & Industry and the St. Maarten Tourist Bureau, during the traditional welcome and plaque exchange ceremony.
Captain Simon Boddger of Mein Schiff 6 during his welcome message said he was very happy to visit the island adding that he was amazed with the rebuilding effort that has been going on, and how good the island was looking since the September hurricanes.
Captain Boddger said it was his first trip to the island and therefore it was a special visit for him. Mein Schiff 6 was initially scheduled to make its first call in November 2017, but due to the passing of Hurricane Irma, the cruise line was forced to change its itinerary.
Acting Minister of Tourism and Economic Affairs Cornelius de Weever was delighted to welcome the Captain, crew and passengers to the 'Friendly Island' on Friday. "TUI Cruises is one of our important cruise stakeholders. They are committed to the destination and we look forward to receiving many more of their vessels as they come online.
"The TUI Group has been responding to growing demand and has ordered new ships as they have identified the cruise market as a roadmap for growth. TUI Group's fleet currently comprises 15 cruise ships and the overall fleet will grow to 18 ships by 2023.
"Another very important point is that they cater to the German and European travel market. This is also very important for our destination. According to a TUI global survey, sustainable tourism is most popular among German and French tourists; one in ten Europeans book eco-friendly holidays; around two-thirds of holidaymakers are prepared to make lifestyle trade-offs to benefit the environment.
"As our country steps up rebuilding activities in the coming months and years, sustainable tourism should be part of building back better. Today's traveller is looking out for much more and our country has to be at the forefront of trends and developments that are taking place in sustainable cruise tourism in order to maximize the benefits and cruise tourism experiences for passengers," Minister Cornelius de Weever concluded.
Mein Schiff 6 is now on its way to the Mediterranean Sea and will stop in Madeira, Portugal. Out of the Mediterranean, TUI Cruises will be offering a new itinerary for that area in the coming months. Captain Boddger said TUI Cruises was committed to the island and that the lines other ships will be calling at the destination in the coming months.
Prior to making its port of call at St. Maarten, Mein Schiff 6 last port call was La Romana in the Dominican Republic which is one of its homeports in the Caribbean. During the 2017-2018 cruise season, the vessel has been visiting ports in the Caribbean and Central America.
The new build ship made its maiden voyage a transatlantic cruise from Europe to the United States in September 2017.
The vessel is the newest member of the fleet of TUI Cruises and is identical to her sister-ship the Mein Schiff 5.
TUI Cruises, a German cruise line, is a joint venture of the German tourist firm, TUI AG and Royal Caribbean Cruises.
The cruise line caters to the German market. The majority of guests on-board were from Germany. The percentage of German travellers on board TUI ships is around 80 per cent.
The vessel was built by Meyer Turku Shipyard in Turku, Finland at an investment cost of US$620 million. Mein Schiff was delivered in May 2017 and christened in Port Hamburg, Germany in June 2017.
Mein Schiff 6 has a gross tonnage of 99,800; length 968 feet; beam 115 feet; and can carry 2,534 – 2,700 passengers and 1,000 crew. The new build has a number of improvements in passenger amenities and energy efficiency.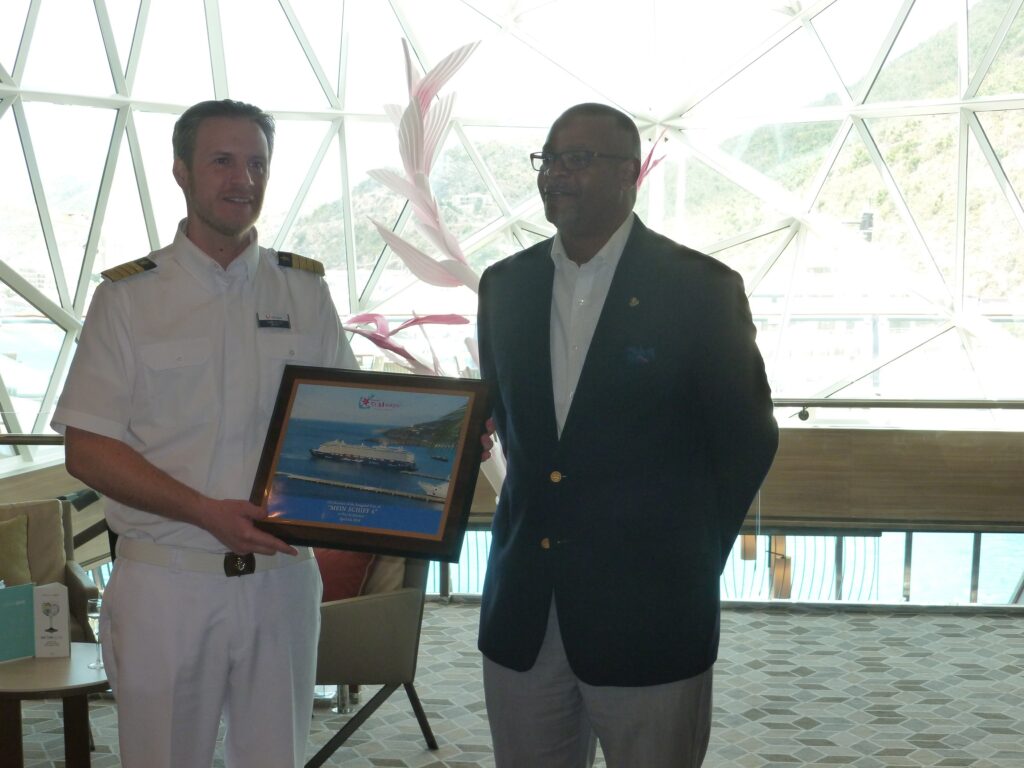 PHOTO CUTLINE: L to R: Captain Simon Boddger and Minister Cornelius de Weever during the plaque exchange ceremony.
TOP PHOTO CUTLINE: Group photo.
The following two tabs change content below.