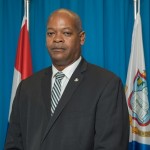 POND ISLAND – Acting Minister of Tourism, Economic Affairs, Transportation and Telecommunications (Ministry TEATT) Cornelius de Weever, says for those seeking employment opportunities during these challenging times, should visit the Divi Little Bay Beach Resort Job Fair on Saturday, April 7.
A hosts of positions are open: Accounting Clerk, Guest Service/Front Desk Agents, Front Desk Supervisors, General maintenance, Servers, F&B Supervisors, Barista, Hostess, Housekeeping Coordinator, Room attendants, Laundry attendants and supervisors, and Houseman/Driver.
The Job Fair will take place at Divi Little Bay Reception Area from 9.00am to 12.00pm on Saturday.
Divi Little Bay Beach Resort is planning to partially reopen the property on May 1st.
"The re-opening of yet another resort in the country is great news for our economy. It sends a strong message to industry stakeholders such as airlines and travelers that we are open for business. Additional hotel rooms means more airlift for the country, more stay-over visitors and cheaper airfares.
"We are slowly getting there, but it will take some time before our country is back to pre-Irma economic levels. I take this opportunity to commend Divi Little Bay Beach Resort owners and management for being steadfast and committed in their redevelopment and re-opening of the property.
"This opportunity at the same time creates employment opportunities for the many who are jobless. Providing quality hospitality services to our visitors is essential and is what makes destination Sint Maarten standout from among the rest. We must live up to the 'Friendly Island' expectation and continue to provide that memorable destination experience.
"I would like to use this opportunity to call on the other resorts that are closed, to fast-track their planning where rebuilding is concerned so our country can be back on track quicker, better and stronger.
"The rebuilding, renovations and renewal process of hotel properties will benefit the overall image of the country as a tourist's destination in the long-run. Some properties within our hotel stock needed to be renovated and now is the time to do so.
"At the same time, the most powerful hurricane in the Atlantic Ocean/Caribbean last September also proved that we need to have infrastructure that can now withstand what is now the new normal, Category 5+.
"Building back our infrastructure better and stronger are the buzz words for the foreseeable future," Minister Cornelius de Weever said on Thursday.
PHOTO CUTLINE: Minister Cornelius de Weever.
The following two tabs change content below.