OYSTER POND/SIMPSON BAY — After the granting of permits to salvage operators active in Oyster Pond the Sint Maarten Nature Foundation has started to monitor wreck removal for any environmental effects; "We have started to monitor and assist where possible in salvage operations that were granted their permit by Government for activities in Oyster Pond," commented Tadzio Bervoets, Nature Foundation Manager, "but we are still waiting for the approval of large-scale salvage in the Simpson Bay Lagoon, which is causing us some concern."
Sint Maarten Nature Foundation Calls for Urgent Action for Wreck Removal in the Simpson Bay Lagoon
Although the Foundation has been involved in some preliminary work in the Simpson Bay Lagoon it is estimated that some 30,000 gallons of fuel and wastewater is being leaked into the environment; "While we understand the need to have everything in place we are urging for salvage works to start soon before the situation gets worse. Our request for assistance has largely been unanswered and we now are dependent on commercial salvage operators to clean up the wrecks. We are therefore urging that all technicalities and requirements be handled and the necessary permits be fast-tracked," continued Bervoets.
The Foundation has been ensuring that oil spill containment equipment is being properly used in the Oyster Pond area; "We are not salvagers and will have to leave technical aspects of salvaging to the experts, but from an environmental point of view we are there to ensure that the ecosystem isn't impacted more than it has already been. That is why we are urging, not only for the environment but also for the economy, that large scale salvage works commence soon in the Simpson Bay Lagoon," concluded Bervoets.
Top photo caption: "Vessel Being Salvaged in Oyster Pond"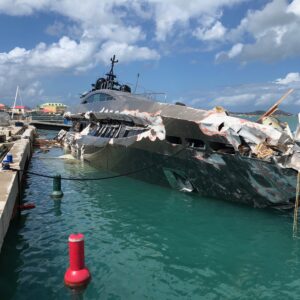 Photo caption: "One of the vessels wrecked in the Simpson Bay Lagoon"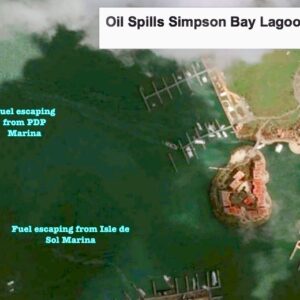 Photo caption: "Google Earth Image showing fuel being leaked from two major marinas in the Simpson Bay Lagoon"
The following two tabs change content below.