GREAT BAY – The Summit Resort in Cupecoy is the first fatal victim of Hurricane Irma. After 44 years in business, the resort has definitively closed its doors. A bit further down the road on Cupecoy, the Ocean Club – scene of the most gruesome double murder in recent history, when the seriously disturbed Meyshane Johnson killed Thelma and Michael King on September 19, 2012 – is in such a bad shape that management has announced its closure until further notice.
Summit-owner Bruce Jakubovitz writes in a letter to his timeshare owners that there is "an enormous gap" between the estimated rebuilding costs and the limited insurance coverage and the limited revenue from timeshare and hotel operations.
Each timeshare-owner will receive a pro rata part of the insurance payment. "This is likely to be a low number given the sublimit imposed by our insurance carrier for damages caused by hurricanes," Jakubovitz wrote.
The Summit Resort opened its doors 44 years ago, in 1973. This is how Jakubovitz describes the damages Hurricane Irma inflicted on his resort; "Some of the Summit's buildings were flattened completely by the force of Hurricane Irma's winds. All but one of the Summit's two-story buildings had their second floors either partially or completely blown off. Our single-story buildings lost roofs and suffered other damage. The pool deck was completely blown away with pieces from it landing by our front entry gate. Our General Manager's living quarters were destroyed as were the living quarters of our Head of Housekeeping. Our restaurant, bar, reception office, laundry facilities and maintenance building were each either destroyed or heavily damaged as well. There is not a single part of the Summit that has been spared from the destructive force of Hurricane Irma."
When we visited the Summit Resort on Monday afternoon, general manager Evans was on site and she said that there is another component to the total destruction of the place. "After the hurricane we had about fifteen rooms that were in a reasonable shape. But then the looters came. They kicked in doors and took what they wanted. There was no police around."
The plan is to clean up the debris. When that is done, the site will be fenced off. All employees have lost their job.
The Ocean Club has announced on its Facebook-page that the resort is closed until further notice and that members will be updated via email.
Photo caption: The Ocean Club in Cupecoy is severely damaged. Photo Hilbert Haar.
The following two tabs change content below.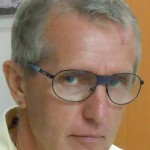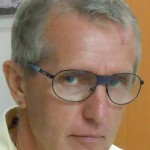 Latest posts by Hilbert Haar (see all)