LET'S TRAVEL LAUNCHES NEW WEBSITE
Philipsburg – Local travel agency, Let's Travel, has launched a brand new website online at www.lets-travel.com, which will not only cater to locals looking to request or book flights online, but also target the inbound travel market, allowing tourists to book flights, tours and activities via the website as well.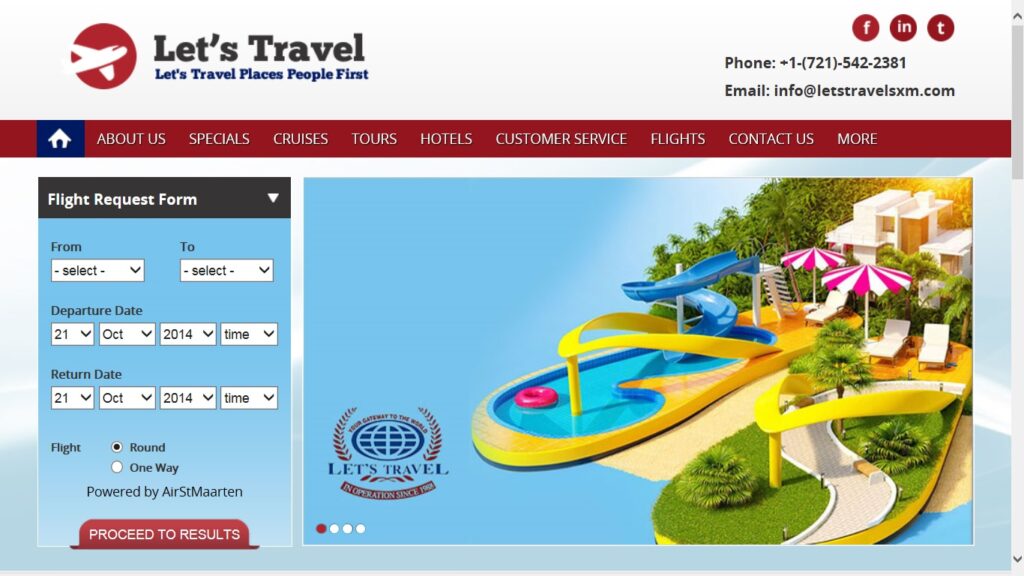 Owner of Let's Travel, Terrance Rey, said that the website took a long time for him to complete but he felt that after the passing of hurricane Gonzalo last week, it was imperative to boost St. Maarten's travel offerings online so that the island as a tourist destination can get more visibility as the Caribbean islands will certainly be ramping up the competition to promote and sell their respective destinations.
"A comprehensive website like that of Lets-Travel.com offering many travel products and tour services for inbound travellers to St. Maarten is a welcome addition to the marketing arsenal of the island's tourism sales infrastructure." says Terrance Rey.
The website will also serve as a webportal to AirStMaarten's commercial charter flights with specials to Guyana, Jamaica, Miami, Aruba, Colombia and later on Brazil as that South American market opens up once St. Maarten and Brazil conclude an open skies treaty.
"For the past eight years AirStMaarten has been organizing both private and shared charters to the surrounding islands of St. Barths, Anguilla, St. Kitts, Nevis, Tortola and Antigua & Barbuda for passengers transitting through St. Maarten, but the time is right with the launch of Lets-Travel.com to promote inbound travel to St. Maarten itself with services that will attract clients of AirStMaarten to actually visit and stay on the island itself." explains Rey.
"Our group of travel companies, partners and affiliates will use  the platform of the new Let's Travel website as a portal to all the different travel products and services that are on offer. We look forward to helping put St. Maarten back on the map as the prime vacation destination in the Northeastern Caribbean region." concludes Terrance Rey.
For more information, call +1-721-542-2381, email info@lets-travel.com or visit www.lets-travel.com.
The following two tabs change content below.